Early Detection Cancer Screening
for First Responders
First responders have a 50% increased risk of dying from cancer compared to the general population. The First Responder Screening Program was initially started because we noticed an influx in firefighters being diagnosed with multiple various aggressive end stage cancers at young ages. This is an epidemic amongst our nation's first responders.

A pilot screening program was undertaken with the Vincere Foundation to study the impact of aggressive early cancer screening in Firefighters and First Responders.

We are now into the fifth year of the program and truly impacting the lives of so many. We now are contracted with the City of Phoenix for First Responder Cancer Screening as well as many other cities in the valley.

The screening consists of a comprehensive visit in which a first responder comes in with his/ her exposure records and sees several doctors – Dr. Vershalee Shukla (Radiation Oncologist, Program Director), Dr. Pablo Prichard (Surgery Director), Dr. Larry Bans (Urologist), Dr. Carlos Rodriguez (Dermatologist), and Gastroenterologists as well as Pathology and Radiology.
The Vincere Cancer Center Team
Jason Underwood Chandler
Fire Department
Thank you to Dr Shukla and her team for offering the Free First Responders Cancer Screening program. As a 42 year old, 20+ year fire fighter, I took advantage of the cancer screening to gain peace of mind and to get a clean bill of health. The last thing I anticipated was for Dr Shukla to find a rare mediastinal mass in its early stages. This particular type is not usually found until it has progressed into later stages of cancer. Throughout treatment, their care and compassion was evident and helped ease stress for me and my family. Less than 1 month after surgery to remove the tumor, I was back to working on my fire truck, running and biking in my free time and feeling better than before. Had the First Responder Cancer Screening not been offered or available, I am sure this cancer would have not have been found until it was too late. Thank you again Dr Shukla and everyone on her incredible team.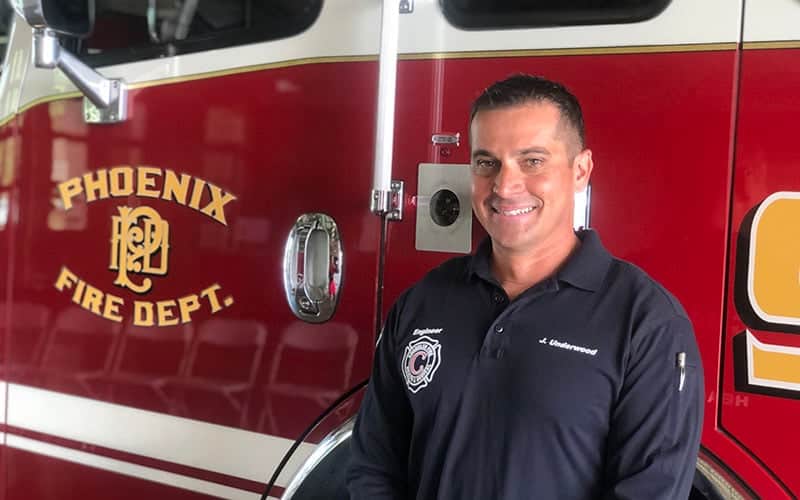 Combustion Products Measured at Fires
Acetaldehyde
Acrolein
Aldehydes (mixed)
Alkanes, straight chain (inc. propane)
Alkenes, straight chain (inc. propene,  1-butene/2-methylpropene)
Arsenic
Asbestos
Benz[a]anthracene
Benzene*
Benzaldehyde
Brominated hydrocarbons (low)
1,3-Butadiene
Carbon dioxide
Carbon monoxide
Chlorinated alkanes (low)
Chlorobenzenes (low)
Cycloalkanes
Cyclopentenes
Dioxins and furans (including 2,3,7,8-dibenzodioxin and –furan*)
Dichlorofluoromethane
Ethylbenzene
Formaldehyde
Glutaraldehyde
Hydrogen chloride/cyanide/fluoride
Isopropylbenzene
Isovaleraldehyde
Methylene chloride
Naphthalene (a PAH)
Nitriles (mixed)
Nitroarenes (analogues of PAHs)
Nitrogen dioxide
Particulate matter (fine)
Phosgene
Polycyclic aromatic hydrocarbons (mixture, including naphthalene)
Sulfur dioxide Styrene
Tetrachloroethylene
Toluene*
Tricholoroethylene
Vinyl chloride
Xylenes (including o-xylene)
Combustion Products Measured at Fires
Acetaldehyde
Acrolein
Aldehydes (mixed)
Alkanes, straight chain (inc. propane)
Alkenes, straight chain (inc. propene,  1-butene/2-methylpropene)
Arsenic
Asbestos
Benz[a]anthracene
Benzene*
Benzaldehyde
Brominated hydrocarbons (low)
1,3-Butadiene
Carbon dioxide

Carbon monoxide
Chlorinated alkanes (low)
Chlorobenzenes (low)
Cycloalkanes
Cyclopentenes
Dioxins and furans (including 2,3,7,8-dibenzodioxin and –furan*)
Dichlorofluoromethane 
Ethylbenzene 
Formaldehyde 
Glutaraldehyde 
Hydrogen chloride/cyanide/fluoride 
Isopropylbenzene
Isovaleraldehyde
Methylene chloride 

Naphthalene (a PAH)
Nitriles (mixed) 
Nitroarenes (analogues of PAHs) 
Nitrogen dioxide 
Particulate matter (fine) 
Phosgene 
Polycyclic aromatic hydrocarbons (mixture, including naphthalene) 
Sulfur dioxide Styrene 
Tetrachloroethylene 
Toluene* 
Tricholoroethylene 
Vinyl chloride 
Xylenes (including o-xylene)
Contact Us For First Responder Cancer Screening
First Responders including Fire and Police are at increased risk of Cancer due to:

Environmental Toxins


Stress/Depression/PTSD

Circadian Rhythym Disruption

Cancer has surpassed heart disease as the leading cause of death of Active Firefighters